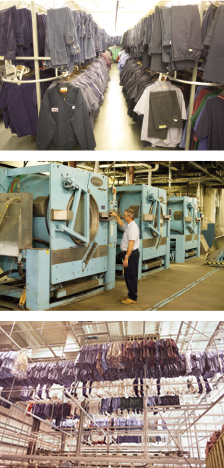 Uniform Stock Room
Full service stockroom located in our building for size changes, alterations, and new man installations. In house stockroom allows for faster order fill times and quicker changes in process orders. We have a full inventory of the latest styles and colors of washed ready to wear business apparel.
Washroom
Our wash aisle is built to handle a large volume of work, but in batches small enough to track our merchandise in detail. We prefer the large open pocket machines because of their mechanical action. They provide the best cleaning from any of the machines on the market today. Our liquid injection system adds consistency to the wash formula. It tracks the quantity of chemicals used and makes sure each load receives the needed chemical at the right time.
Garment Tracking
Radio frequency chips are used for complete delivery assurance. With this capability, we are able to track garments from the time it enters our cleaning facility for processing until it is accurately bundled and loaded for delivery back to you.  It even tracks how long a garment has been in service and the number of times it has been laundered.  We realize that when you sign up for service that you expect to avoid annoying problems like missing uniforms, you just don't have time for it! Garment Tracking is part of the  Appeara difference.